How important is having a Website Google Business Account for SEO?
Having a Website Google Business Account for your businesses website is one of the most important things to have. This will help your website rank on google pages. This will tell google where your business is and what type of business you have. At Taylor Software all our websites get Website Google Business Accounts as this helps all of our businesses rank in google more organically. Contact us to find our more.
What is important when creating a Website Google Business Account
When you are creating a website google account you need to make sure:
– You need to have a google email address eg. example@gmail.com
– Your business name is spelled correctly
– The business has to have a physical address.
– For your google business account it would be ideal to have a landline that google can call to give you your verification code. If you do not have a landline you can request that google posts you a letter with your code on it (please note that this could take a while)
– The next thing to do is to choose a category that best suits your business. This means that if you are a website designer like us you will choose the website designer category
– To best help your customers you need to provide them with your operating hours.
How Website Google Business Account Looks In Google Places Pages

Above is how it looks when you have a google business account. This is a screen shot taken of our website google business account. This gives you all the basic details that helps potential customers find your website. Below you can see how it looks when the small block is clicked on. This gives your users all of the details they will need to get to know your business and to be able to get to your website.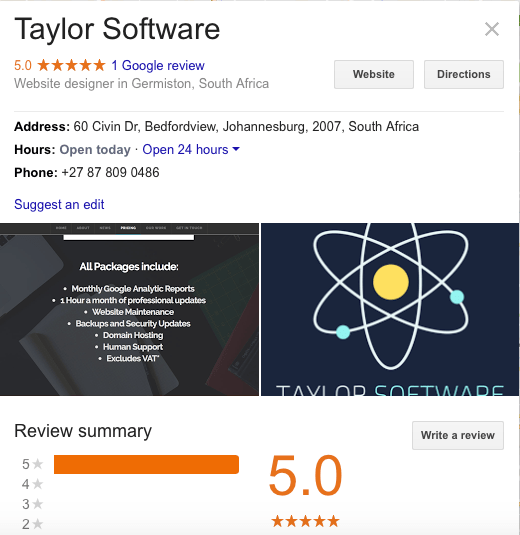 How Website Google Business Account Looks In Google Itself
The image above is how your website google business account details will look in Google itself.
This gives you the advantage of your business being found by people looking for you and your business. This will usually be on the right hand side of google searches. If you would like to create your own google business account go to The Google Business Accounts page or give us a shout.